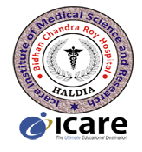 ICARE Institute of Medical Sciences and Research And Dr. Bidhan Chandra Roy Hospital, Haldia
Banbishnupur, P.O. – Balughata, P.S. – Bhabanipur, Dist. – Purba Medinipur, PIN – 721 645.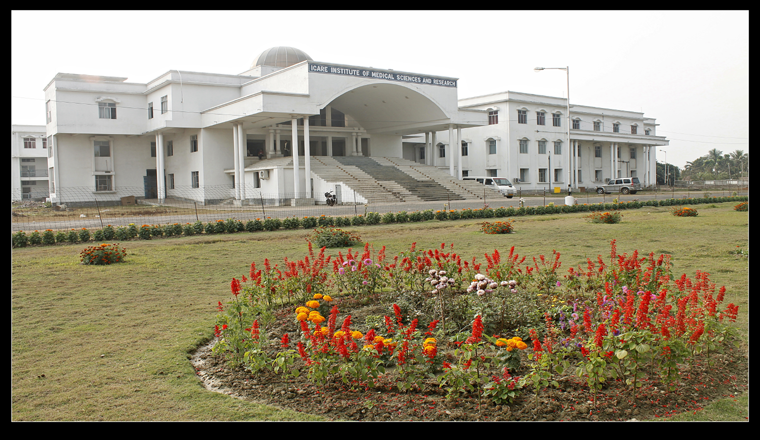 About the Institution
(Permitted by Medical Council of India, U/s 10(A) of the IMC Act 1956 & Affiliated to West Bengal University of Health Sciences)
ICARE Institute of Medical Sciences and Research & Dr. Bidhan Chandra Roy Hospital, Haldia is the first totally self-financed Medical College in West Bengal. This medical college and hospital have been established by Indian Centre for Advancement of Research and Education, Haldia (ICARE) – a registered Society (NGO). The college is situated in a sprawling integrated campus of 34 acres by the side of river Haldi.
This medical college has been established with the twin objectives of nurturing the students admitted in MBBS course to become successful doctors in due course and to serve the society through its multi-specialty hospital both secondary & tertiary medical care.
In fact, we shall help the students by providing the base for the holistic development and not just their academics with excellent infrastructural facilities which shall mark us above the others.
Courses and Admission
The institution offers courses in medical specialties at the undergraduate & postgraduate level. The course is recognised by the Medical Council of India and affiliated to the West Bengal University of Health & Science. It admits 100 students for the MBBS & MD courses.
MBBS Duration :
5½ years (including 1 year of internship)
Curriculum:
The curriculum is as per the directives of the Medical Council of India. The Institution places much emphasis on the ethical and moral aspects with a view to producing medical professionals fully committed to serving the society:
Grouping of Subjects for examination
MBBS
Name of Subject Durations
Durations
First MBBS
Anatomy, Physiology & Bio Chemistry
2 (two) Semesters
Second MBBS
Pharm acology, Pathology, Microbiology & Forensic Medicine
3 (three) Semesters
Final MBBS
Opthalmology, ENT & Community Medicine
2 (two) Semesters
General Medicine, Surgery, Obstetrics & Gynecolgoy and Paediatrics
2 (two) Semesters
The POST GRADUATE DEGREE AT ICARE Institute OF MEDICAL SCIENCES AND RESEARCH & DR. BIDHAN CHANDRA ROY Hospital, HALDIA IS OFFERED IN THE FOLLOWING STREAMS:
THE CURRICULUM FOR MD INCLUDES:
Conference presentations
Collaboration with clinical disciplines
Weekly seminars and journal club for postgraduates and clinical lectures
Slide preparations
Training in a paper publication
Dissertation works and thesis submission
Attending theory and practical classes of UG courses [under active guidance of faculty members]
Regular training or posting on different labs as per curriculum requirements
FACILITIES:
Individual departments under IIMSAR are supported by the state-of-the-art infrastructure for research and clinical experience.
Enquiry
If you want to learn more about this college / institute, please fill up this form with your details and we will get back to you.